LaunchCode Provides Military Veterans & Families Free Tech Education that Leads to Long-term Career Opportunities
If you or someone you know has ever dreamed of a career in technology but found the barriers to entry too great – the educational costs, lack of a computer or Wi-Fi, the time to do it, not knowing where to start, no support system, or what to do with a tech degree once you have one – you're not alone. It may seem impossible to learn coding, software development, and other types of technology, and to stand out in a sea of other tech graduates when getting a job.
This is where LaunchCode makes dreams come true! This St. Louis-based nonprofit organization removes the barriers to learning various technologies and subsequently making a career of it. LaunchCode's free technology programs are available to those who may not otherwise have the time, finances, or opportunity, and its job placement program launches graduates into their careers.
In 2018, with assistance from the Berges Family Foundation (BFF) and its Support for Heroes initiative, LaunchCode added a dedicated military veteran's course and has since witnessed hundreds of St. Louis's veterans, transitioning service members, and their families, graduate.
Elizabeth Mannen, the Berges Family Foundation Managing Advisor commented, "We are proud to assist our local veterans and military family members through LaunchCode's programs. While considered a nontraditional group for tech talent, this diverse set of students is looking for economic stability and opportunity, and they find it at LaunchCode. The Berges family is humbled to give back in this small way to those who have risked so much for our country."
How LaunchCode & Berges Family Foundation are Changing Veterans' Lives
In 2018, the first in-person, veteran-focused LC101 class in O'Fallon, Illinois, near Scott Air Force Base, was a big success, with 39 veterans and 45 military family members enrolled, and has continued to grow ever since. The class provides the coding, programming, and professional skills needed to secure an entry-level tech position in six months, a lifeline for many who retire out of military service and have a difficult time transitioning their skills into civilian careers.
Additionally, the LaunchCode team provides more than just technology education – they have built a much-needed, like-minded community and camaraderie for veterans, transitioning service members, and their families, who often need to feel supported and confident in their capabilities of learning new skills.
"For us to create a place where students feel a sense of community, like, 'Here are other people similarly situated in life; they have the same opportunities and the same challenges as me, and I see that I fit in as well,' is a really powerful driver for persistence and opening the doors of the technology space to a broader range of people," said Clark Roman, LaunchCode Candidate Engagement Manager.
Since the dedicated, military LC101 program began, LaunchCode has trained 141 military veterans and 377 military family members in the St. Louis region.
"The Berges partnership has allowed us to take our strengths as an organization and apply them to a whole new universe of people with intention, which is one of our mission goals, to reach as many people as we can and help them create a strong future through technology careers," said Jeff Mazur, LaunchCode Executive Director. "We are so grateful to the Berges Family Foundation. Without the resources they provide, we wouldn't have been able to start a dedicated program for military veterans and their families," he said.
Large-Scale, Free, Job-focus Technology Program for Military Veterans, Military Family Members, & Transitioning Service Members
LaunchCode's large-scale, free, job-focus training program for military veterans gives them the skills necessary to land the first job in their technology careers. This is often in software engineering and web development, and in adjacent fields like QA, data analysis, or Salesforce administration. No previous technology skills or knowledge are required to be in the program.
How the LC101 program works: During the program, students spend six hours per week in a synchronistic learning environment with 160–180 other learners, a lead instructor, and a teaching fellow who manages a group of 10–12 students who work very closely together. A typical student will also spend an additional 15 hours per week to do the assignments and facilitate learning, independently.
In just six months, spending roughly 20–25 hours per week, students gain the skills necessary to obtain their first technology job. Some graduates take the initiative to leverage the in-demand skills learned in the course to land a tech career on their own. Graduates can also enter LaunchCode's Apprenticeship Program, which connects job-ready graduates to employers in need of junior-level talent through a temp-to-hire model.
LaunchCode's Apprenticeship Program has proven to be effective in connecting companies across the U.S. with driven tech talent from all walks of life:
More than 4/5 LaunchCode apprentices convert to permanent employment.
The average beginning wage of LaunchCode hires is more than 2x their previous salary.
500+ Company Partners work with LaunchCode to hire graduate apprentices.
Military veterans graduating from our training programs often have security clearances that are in-demand in the tech workforce.
Annually, about 200,000 men and women transition out of the military and face the challenge of translating their military experience into careers in the corporate sector. – The U.S. Department of Veterans Affairs
Non-Tech Benefits of the Technology Career Program
"We weave job-readiness throughout the LC101 program; however, we find that military veterans already have many transferable, non-technical skills that employers are looking for, especially right now. For example, our employer partners often want people who are calm under pressure, have some management experience or the right leadership qualities for management, and those who can handle multiple projects at once in stressful situations. These are all transferable traits and life skills that our students either come to the table with already or learn through the program, which makes them highly employable. This program opens the door to endless possibilities for our students' futures," said Leah Freeman, LaunchCode Director of Public Relations.
She added, "LC101 graduates leave the program with interview skills, a polished resume, and a finished coding project that they can demonstrate to potential employers. They can show their potential employer how they used their skills to create an app, website, or software product. Beyond coding proficiencies, they also learn practical, real-world applications and the confidence to perform whatever job they're going for."
LaunchCoder Success: Stories of Tech Skills & Fulfilling Careers
Chrissy Balducci, a military widow, had always worked in the mortgage industry, but as a mother of three in her 50s, knew she had to switch industries to sustain her family's lifestyle. With little prior exposure to technology but determined to enter the high-demand industry, Chrissy enrolled in LaunchCode's LC101 program – driving over an hour each way to class. Her tenacity paid off and a year after enrolling in the program, Chrissy started her career as a Project Manager apprentice at Mastercard. She then converted to a full-time position as a Systems Engineer. She says, "I owe everything to LaunchCode. LaunchCode has changed my life forever! Thank you so much for all the support and for helping to push me along when I wasn't so sure. Because of LaunchCode, I am able to stand on my own two feet and I'm able to continue to take care of my family."
If you would like to hear Chrissy's amazing, inspiring story, be sure to listen to LaunchCode's podcast here.
Air Force veteran Chris Nava had years of experience in electronics maintenance but none in programming. He was looking for a change after leaving the service and heard of LaunchCode's program. In January 2017, he began training and graduated in July. One month later, he received an email from LaunchCode saying that Booz Allen Hamilton (employer partner) was seeking tech professionals with security clearances. Chris was interested. Since Chris was Booz Allen Hamilton's first LaunchCode candidate, recruiting was a two-month process. However, once he began work with Booz Allen Hamilton that November, things happened quickly.
"I was teaching Python classes within two days," Chris said. "And around nine months after my initial hiring, I was doing data science work supporting the operations of the National Geospatial-Intelligence Agency."
To hear more from Chris, tune into this video from LaunchCode's Speaker Series.
Former Army Reservist, Tracy Cannon explains, "My pre-LC101 career focused on policy research and analysis, adjunct teaching, and managing data and compliance for school districts. When I decided I wanted to switch gears, I chose LaunchCode after a friend suggested I leverage my analytical skills to jump-start a new career." Tracy is now an Associate Analyst in US Product Delivery for MasterCard.
What's Next for LaunchCode & LaunchCoders?
Monthly Speaker Series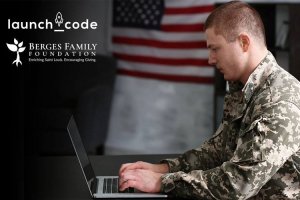 LaunchCode and the Berges Family Foundation have also introduced an online Veterans Speaker Series in conjunction with LC101 classes. These highlight recent graduates and company partners who speak about the unique military experience and how it translates to success in tech careers. Each speaker shares his or her success story at the beginning of a class, which is a great motivator for students who are about to start an intense 3-hour workday session.
As a former LaunchCode graduate and the current Candidate Engagement Manager overseeing the military-focused course, Clark Roman is very interested in what drives students and what keeps them motivated because, he says, "this is a very hard class. It is fast-paced, it is tough, it is completely retraining your brain how to think. It is very difficult, that's why I'm amazed at our students who make it through. It is mind-blowing how adaptable and smart they are. We have discovered, so much of the driving force behind students' dedication, is seeing friends and loved ones complete the course and start a technology career that's fulfilling in a way they may have never experienced before."
Clark says, "When students hear from our speakers how they completed the course and succeeded against a lot of odds, engagement goes up, motivation goes up, desire to complete the course goes up, and it makes students really want to hit the finish line."
The next speaker series for students currently enrolled in the military-focused LC101 course began in early August 2021.
How You Can Help LaunchCode Continue to Change our Heroes' Lives
Through free tech education and job placement opportunities, the team at LaunchCode is bringing people of all ages, professions, and demographics into the tech field, and reshaping the way employers think about hiring. This model is invaluable to the students, the employer partners, the local communities, and each person in the students' lives.
In 2013, Founder Jim McKelvey discovered, "when you make quality education free and accessible, amazing things can happen." But to do that, it takes a village. The Berges Family Foundation encourages you to help us make St. Louis a wonderful place to live, visit, work, and invest by supporting our heroes as they embark on a new life journey at LaunchCode.
You can help LaunchCode continue to create new pathways to education and economic opportunity for people of all backgrounds and our military veterans and their families by donating. In addition to monetary contributions, there are many other ways to get involved. Please, reach out to LaunchCode today to learn more. (314) 254-0107
Our Mission
The Berges Family Foundation supports the institutions and organizations that make Saint Louis a great place to live, visit, and invest.